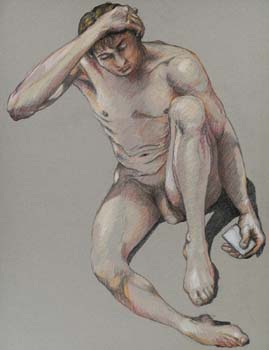 Tim Brian McSweeney
1968 Studied drawing, painting and printmaking at Kansas City Art Institute, Kansas City, MO 1967, 69-71 Studied drawing, painting and printmaking at the University of Arkansas, Fayetteville, AR Batchelor of Arts, University of Arkansas
While studying art and architecture at the University of Arkansas, studied oil painting under the well known painter Donald Roller Wilson.
1972 – 2007 Thirty-five year career in the commercial graphic arts and printing industry.
In 2006, Mr. McSweeney's mother, a life long artist, art teacher and rehabilitative art therapist succumbed to a long struggle with cancer. Her legacy to him included not only a wealth of art materials, but also a rekindling of the long dormant creative Muse that guides him still.
Since 2005, Tim Brian McSweeney has worked directly from live models at local venues weekly, including the Cheltenham Arts Center; the Philadelphia Sketch Club; Schuylkill Academy of Fine Art; and Studio Incamminati.
Artist's Statement
Recent exhibit participation:
September 2006 Painting the Unclothed Figure (Juried)
Fine Arts People Gallery, Exton PA
Dec 06/Jan 2007 66th Annual Members Exhibition
Cheltenham Arts Center, Cheltenham, PA
Dec 06/Jan 2007 Abington Art Center Annual Juried Show
Abington, PA
April/May 2007 65th Annual Awards Painting Exhibition (Juried)

Cheltenham Arts Center, Cheltenham, PA
May 2007 4th Annual Exhibition of Student Works
Schuylkill Academy of Fine Art, Philadelphia PA
September 2007 Painting Nature (Juried)
Fine Arts People Gallery, Exton, PA
November 2007 I Sing The Body Eclectic
First Solo Gallery Show
Fine Arts People Gallery, Exton, PA